Halloween is pretty serious business in the Sawyer household. Each year, the whole family plans out what would make for the coolest costumes based on what the kids are currently into. This often means making our own costumes... From Captain Kirk & the Mugato to He-Man & Micheal Keaton's Batman. This year was no exception as we all decided on a Ghostbusters theme. :) Here's how everything turned out... (Clicking the pics should bring up larger versions BTW)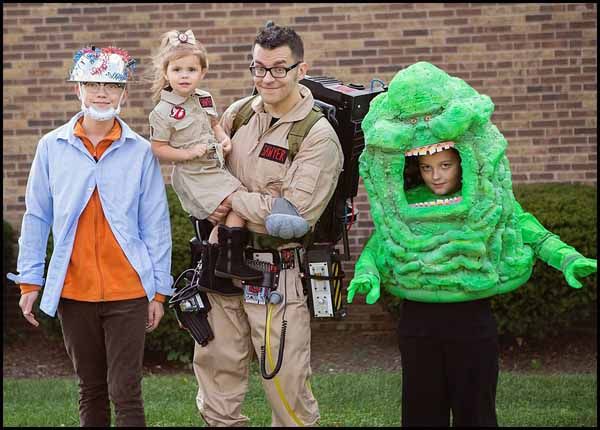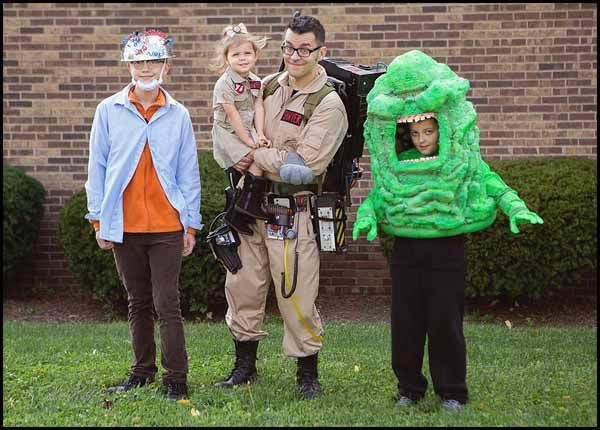 Blaze's Louis Tully (or Vinz Clortho if you prefer) costume probably cost the least of all to make, but was the biggest hit among folks over 30. A quick trip to a used clothing store, a colander, a chin strap, a few loose wires & electrical parts and he was good to go! Oh... and Blaze usually hates pictures, but was willing to do a few for this blog post... So thanks Blaze!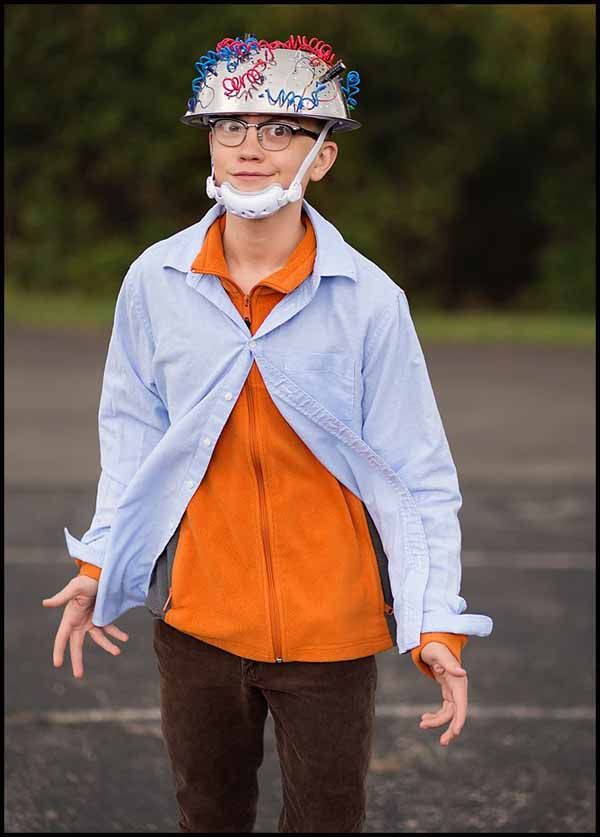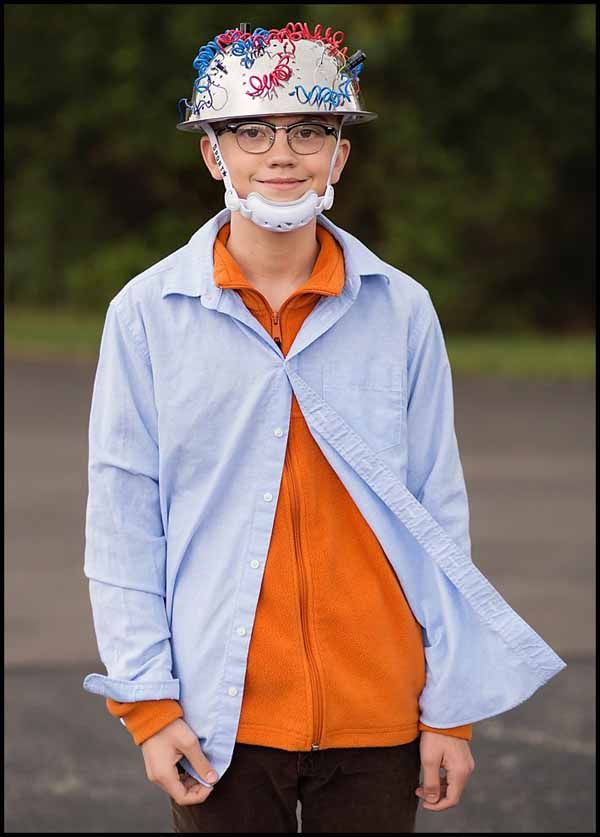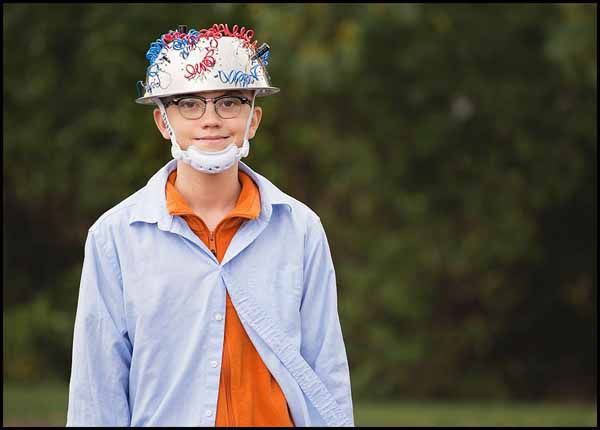 For Gracie, we knew we wanted to move away from the traditional slight suit, so we found a nice little girls' jumper in khaki. We felt it still conveyed the Ghostbusters uniform look while also fitting her cuteness. The small patch came from Amazon, while the smaller name patch was a custom job from the folks over at GBFans. Her Ghostbusters hair bow came from Etsy. Not pictured is her proton pack (which is actually my childhood Kenner pack painted black).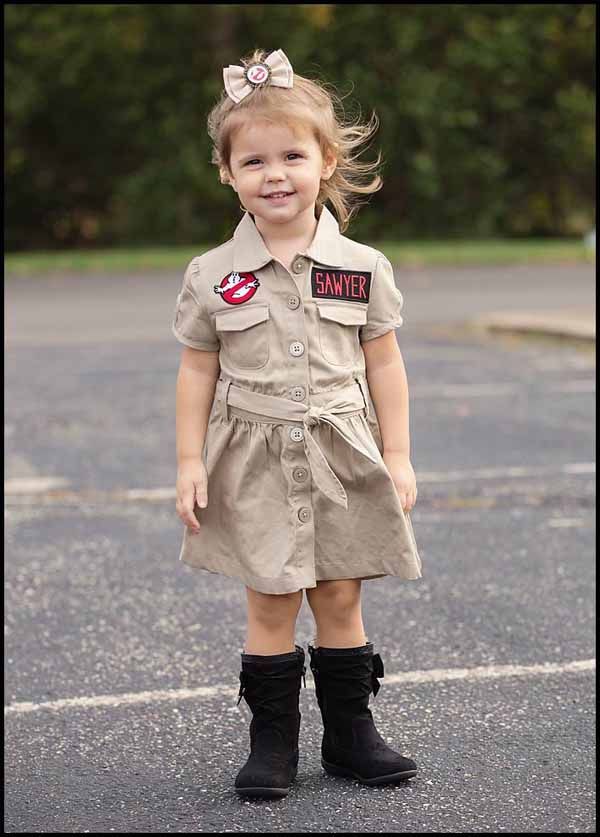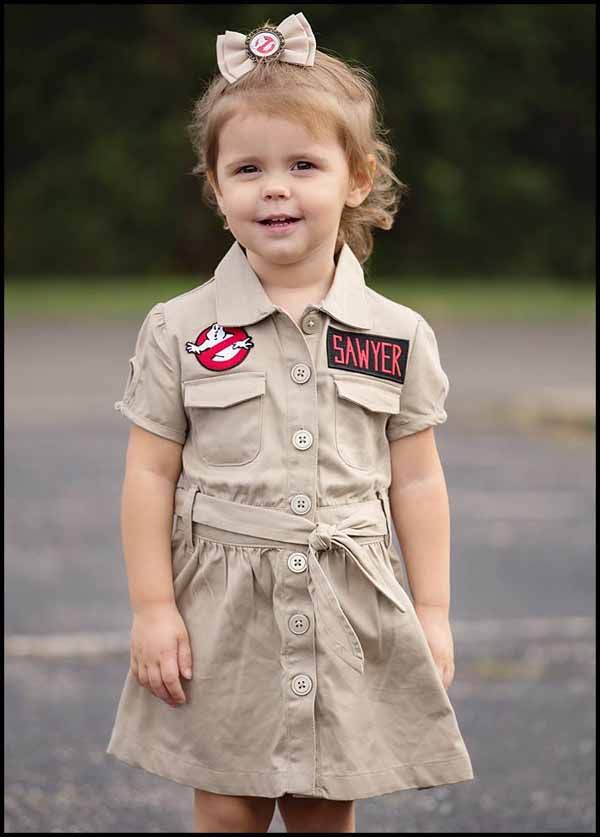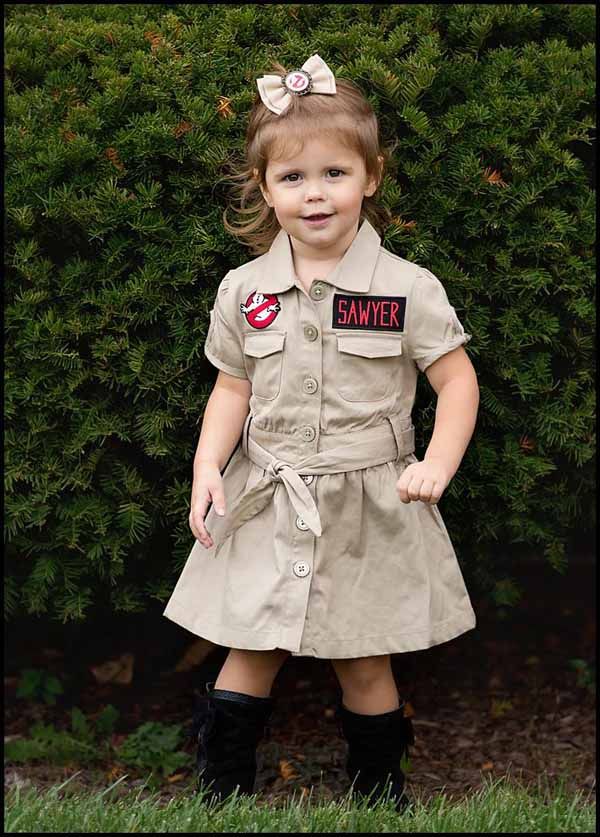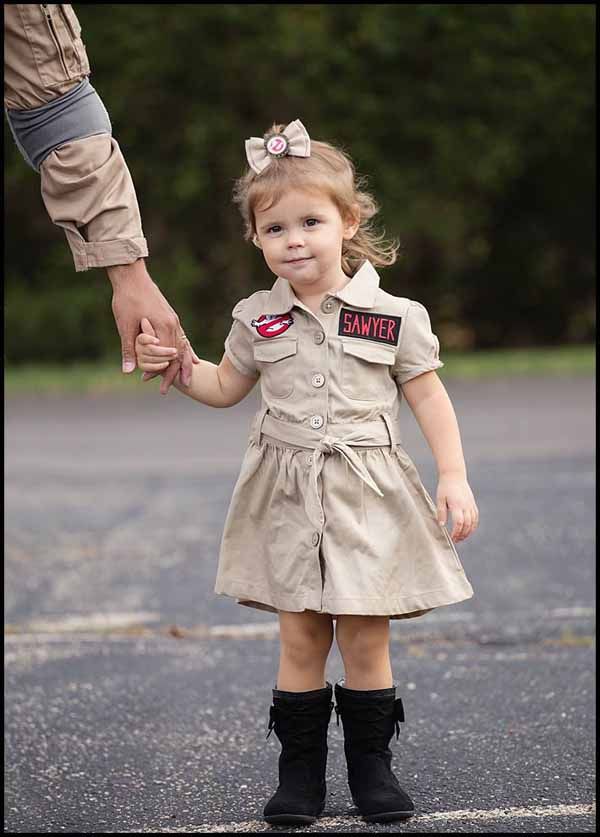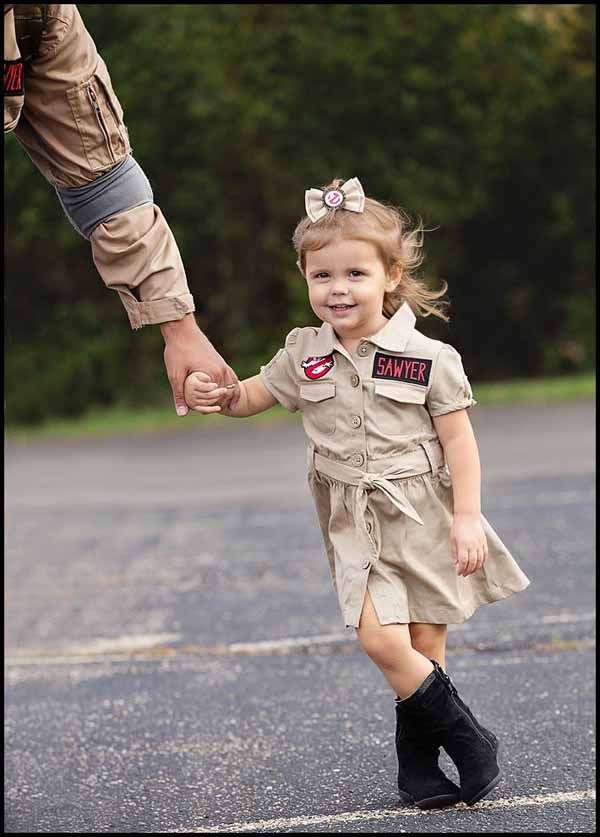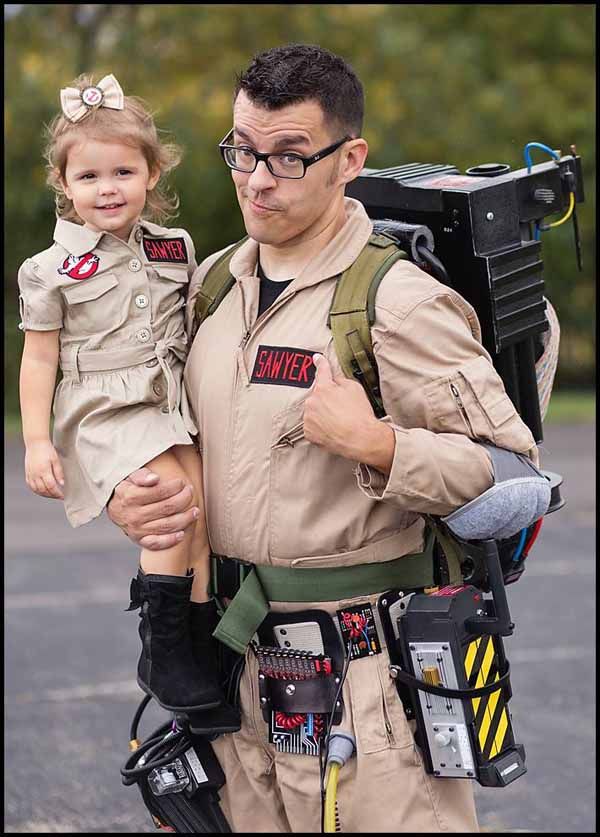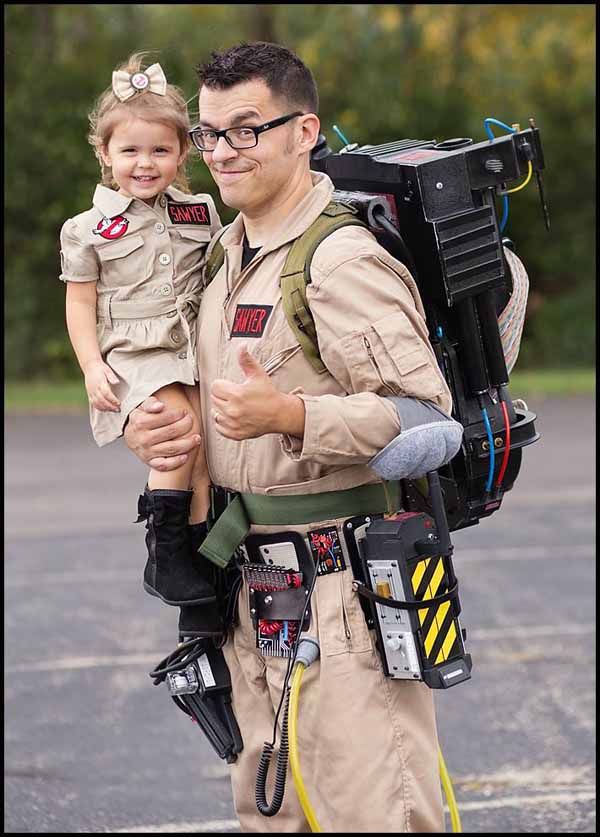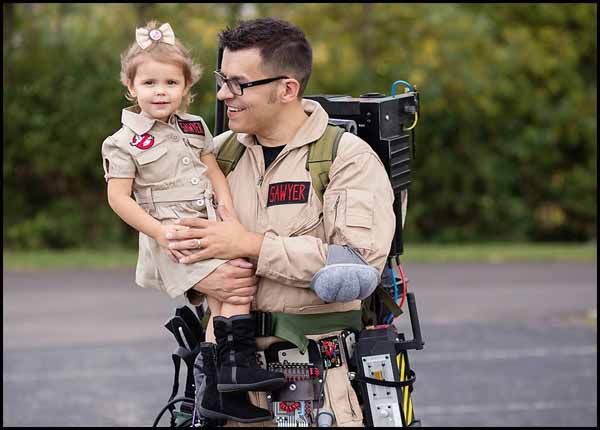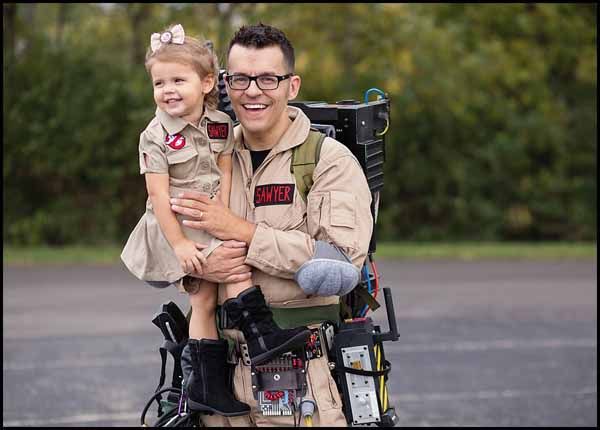 If you follow our
Youtube channel
, you already know the work I have put into my suit, so I won't go into too much detail here.... But it was obviously the priciest of the bunch. :) The outfit consists of stuff from GBFans (and their forum members), Mattycollector, and my own two hands. And no, I didn't just do all of this one for Halloween- I am now a member of the
Real Ohio Ghostbusters
and am using the suit for charity events.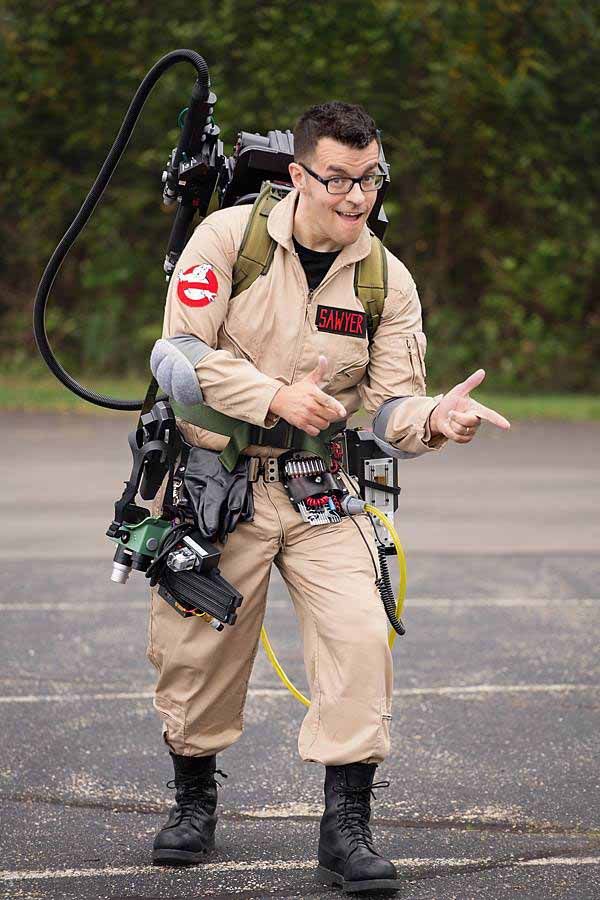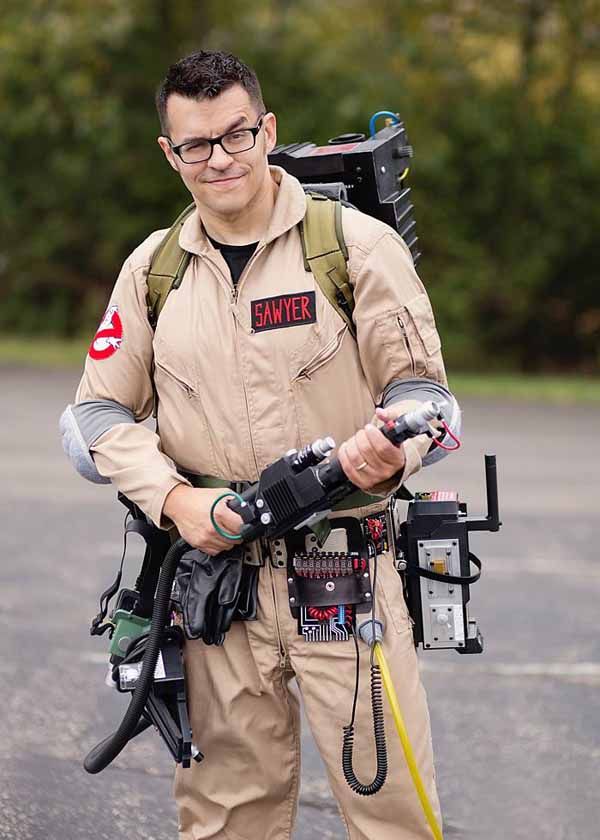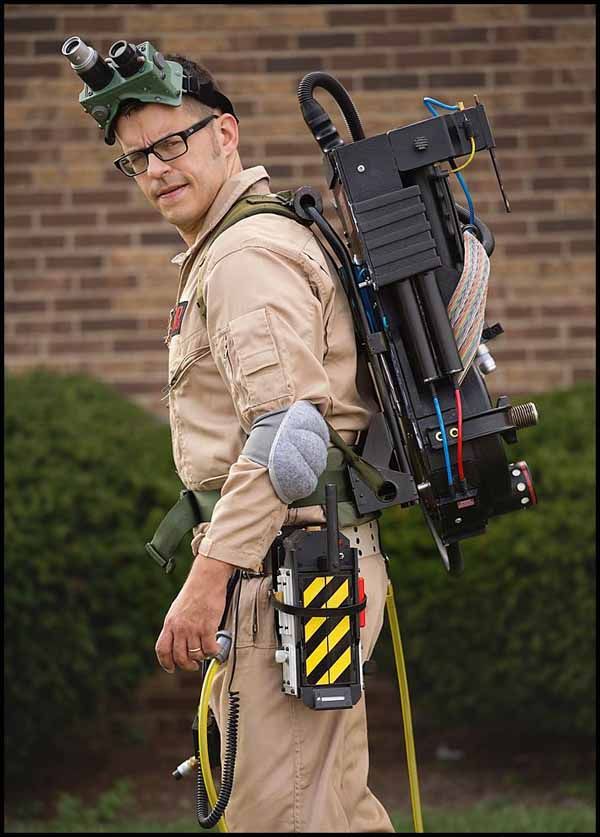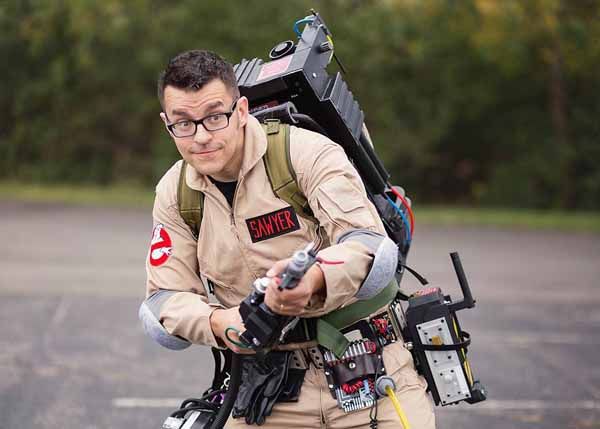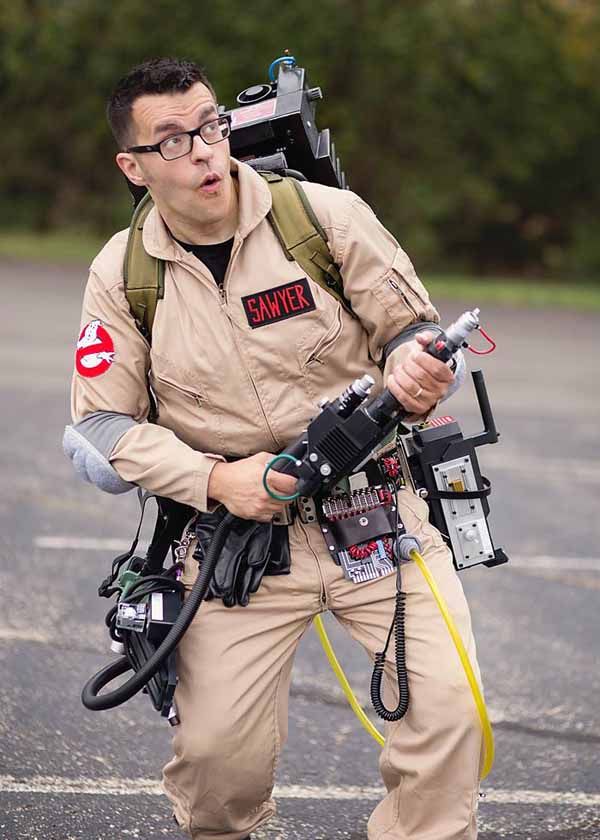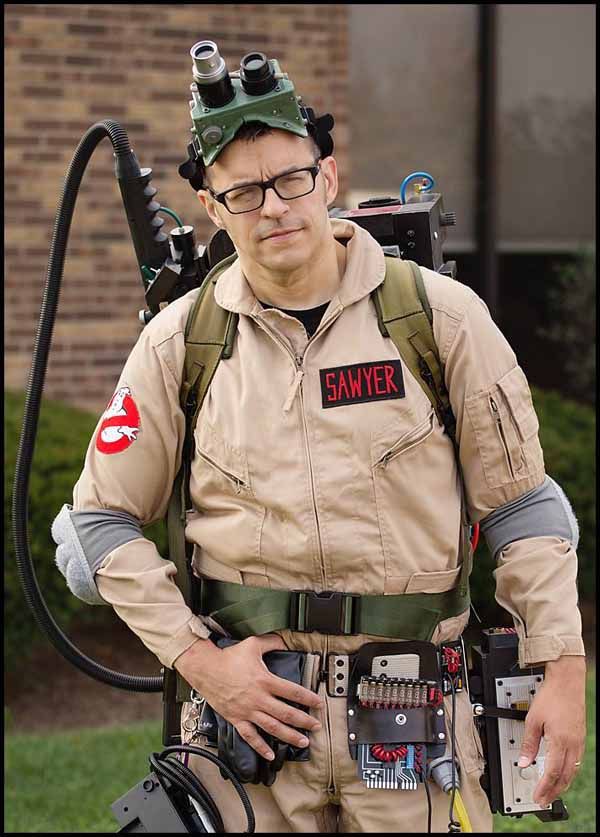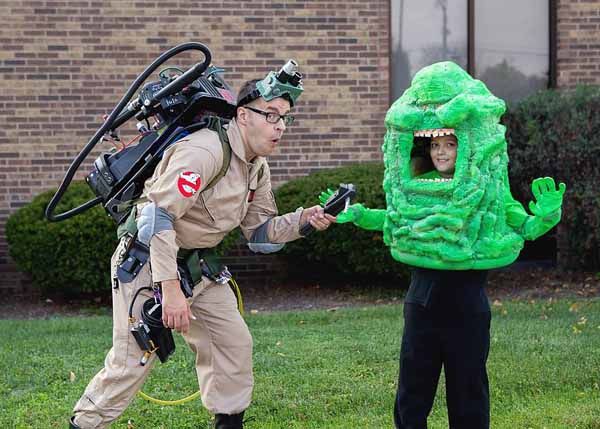 Keaton's child-size Slimer suit was the biggest challenge of all. We needed it to be lightweight and easily removed if he got tired of wearing it (since he is only 9 after all). The suit consists of a plastic hamper turned upside down with holes cut into the sides for his arms and one in the front for his face. The inside of the hamper is padded with foam for comfort. The Slimer sculpture on the outside was made from pipe tubing and spray insulation foam. The "arms" are an old cut up shirt which I spray painted with the same shades used on Slimer and then creased to mimic the folds of skin. Slimer's eyes are a couple of those clear "stones" you see in vases or aquariums. His nose was sculpted from super sculpy. The entire suit was then finished with glow-in-the-dark paint (which looks pretty awesome if he has time to soak up a few rays beforehand).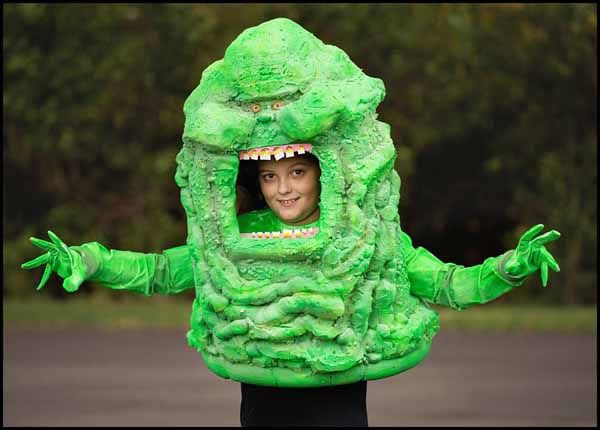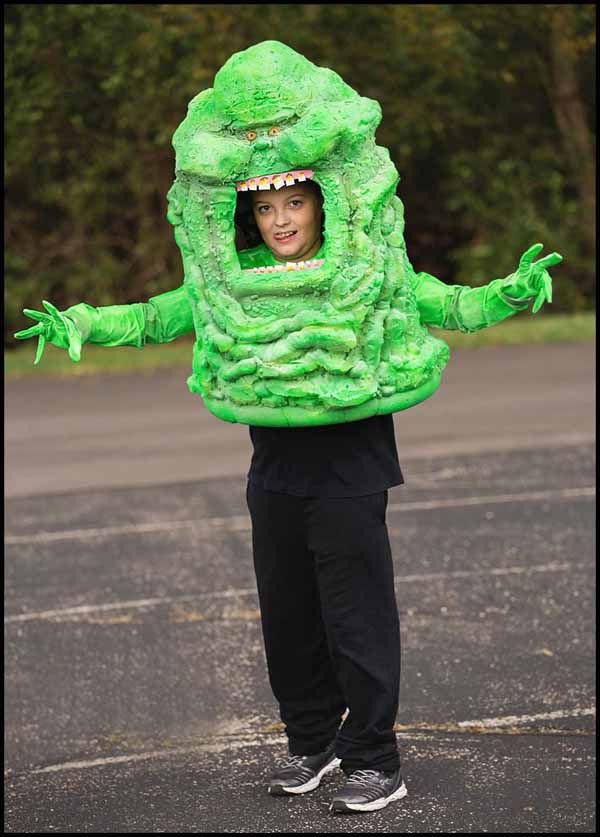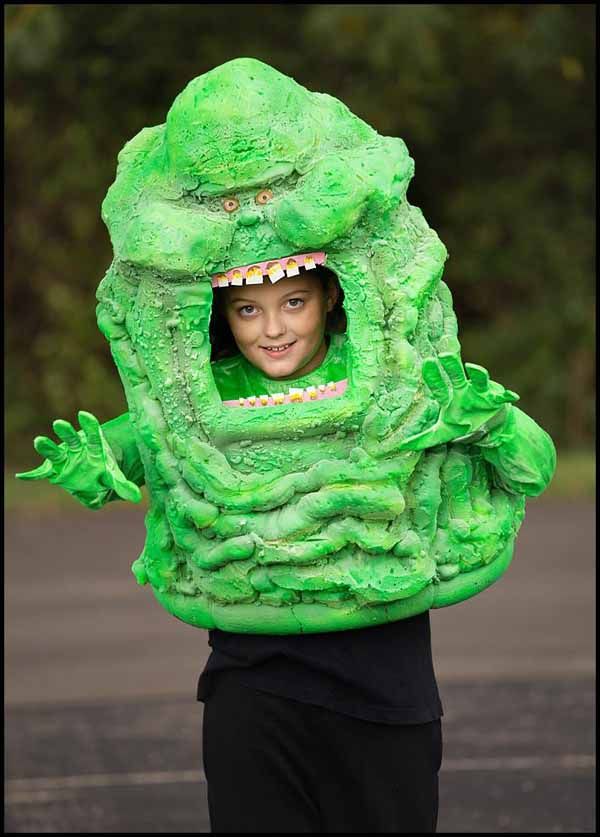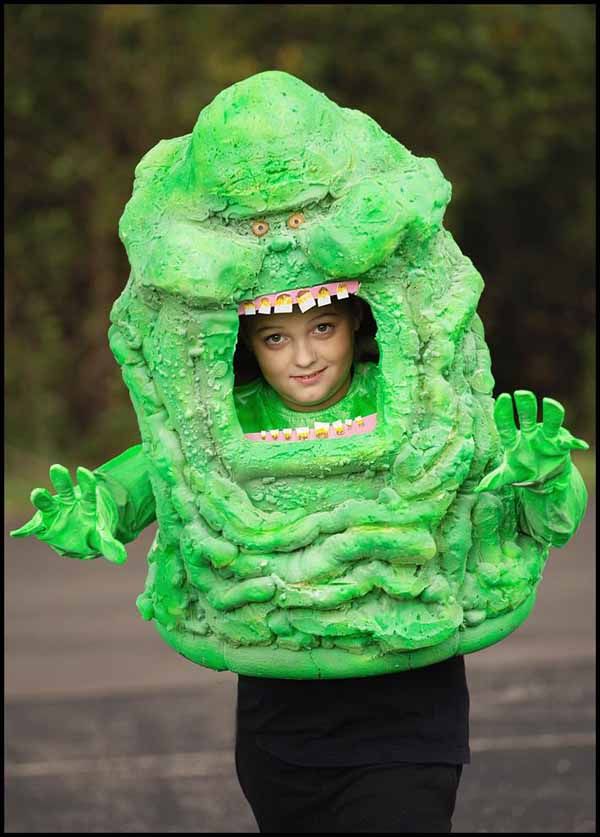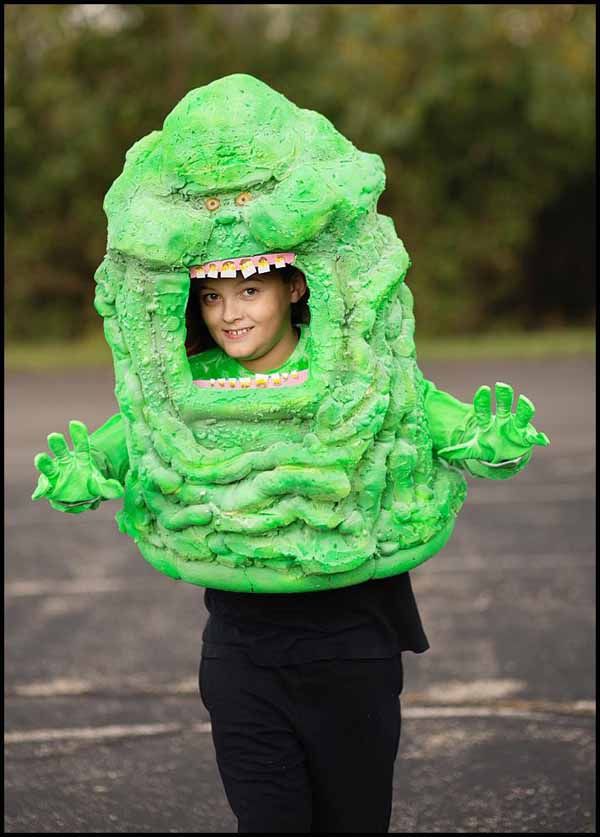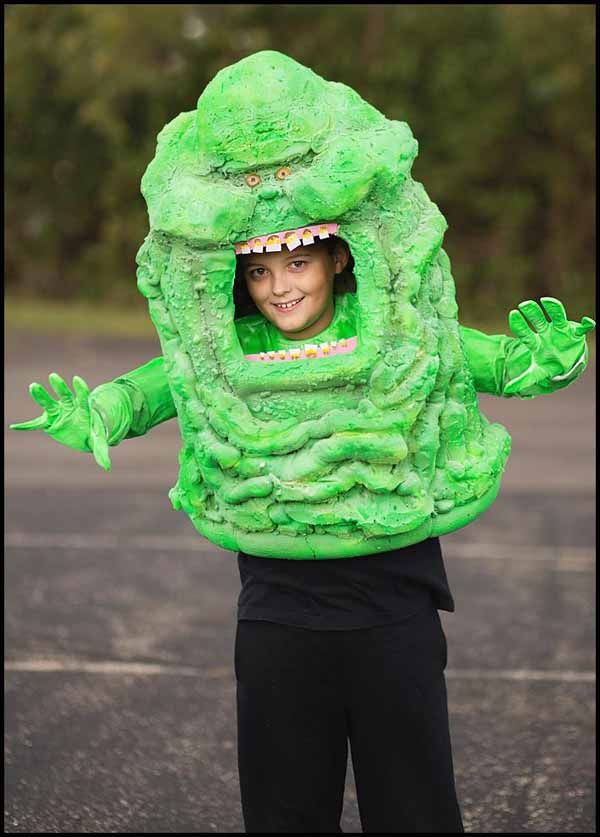 And just in case Gracie didn't feel like walking during all the Halloween festivities- We converted an old Little Tikes Cozy Coupe into her very own Ecto-1! Ecto-1 has a roof rack with dish, working bubble lights, and set of speakers for playing the Ghostbusters theme song and Ecto siren!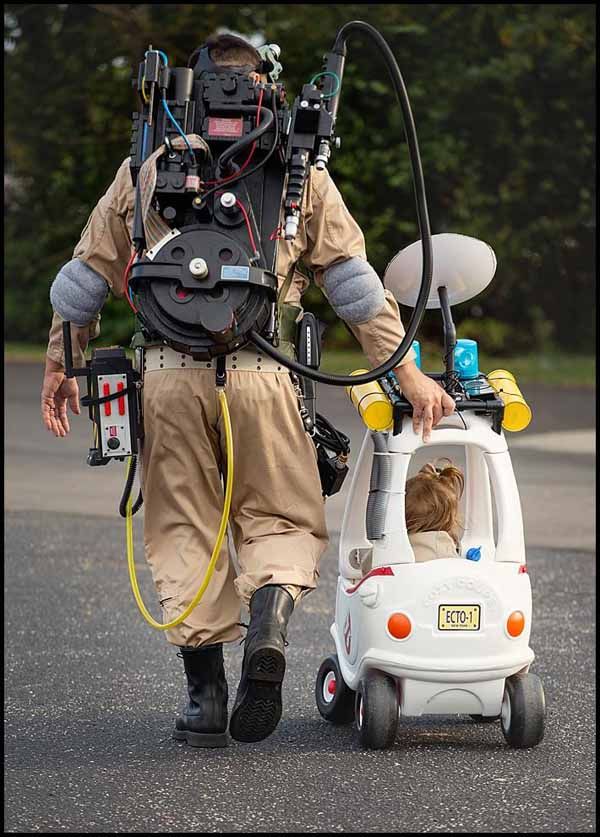 Oh! I almost forgot... My wife Bobbi also sewed together some really awesome Ghostbusters trick or treat bags for the little ones to carry on Halloween, but I don't have pictures of them. I will update this post as soon as I do! She also took all of the pictures you see in this post. She rocks at the photography stuff. :)
Not sure how we will ever top this year....