Recently, the family and I made the pilgrimage out to the
Indianapolis Children's Museum
to visit their "Superheroes!" exhibit. I had heard that the exhibition featured props from some of my favorite superhero flicks... but I really wasn't prepared for the sheer awesomeness on display. Since we visited on the final day of the event, I took plenty of pictures to share the experience with those who might have missed it.
First, no trip to the Indianapolis Children's Museum is complete without visiting their archaeological section- Featuring props from the Indiana Jones films! When I saw these on our first visit a year ago, I was seriously awestruck. Having Indy's hat and whip right in front of me was an encounter that I never dreamed I'd have. Oh... and ya gotta love that the plaque says "From Indiana Jones movie
trilogy
". Take that, Kingdom of the Crystal Skull!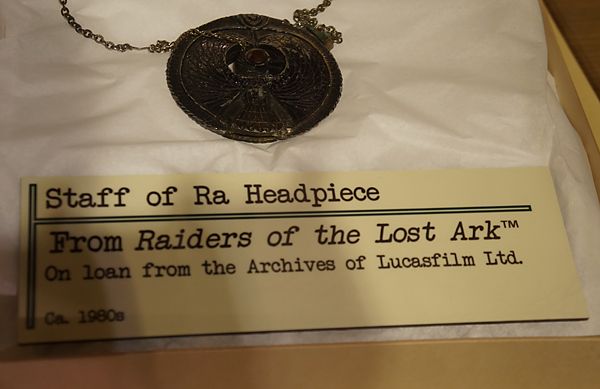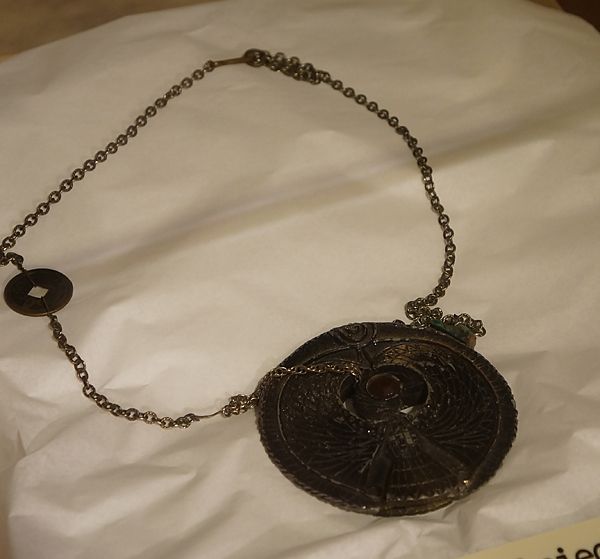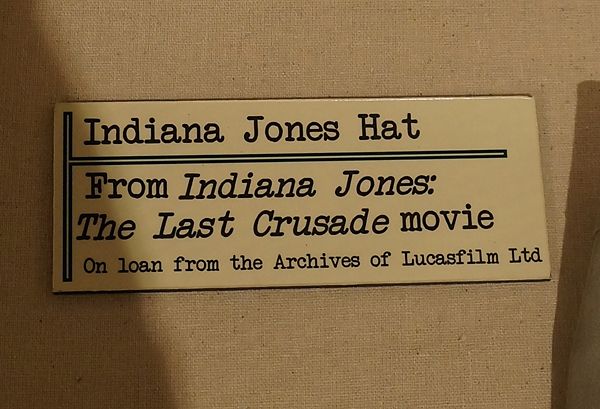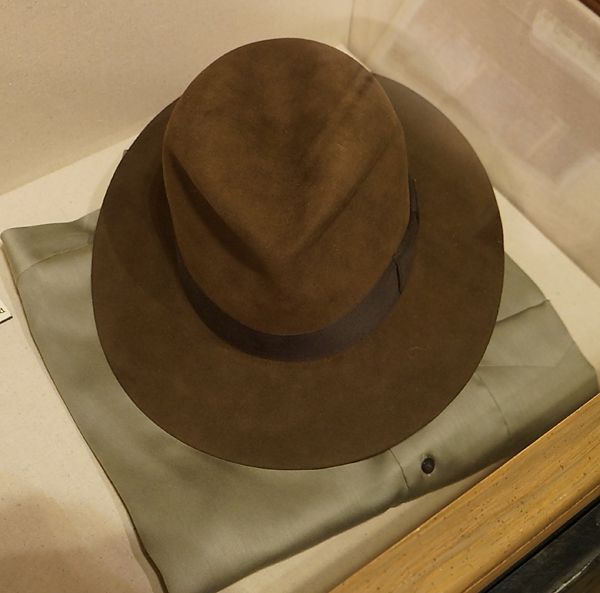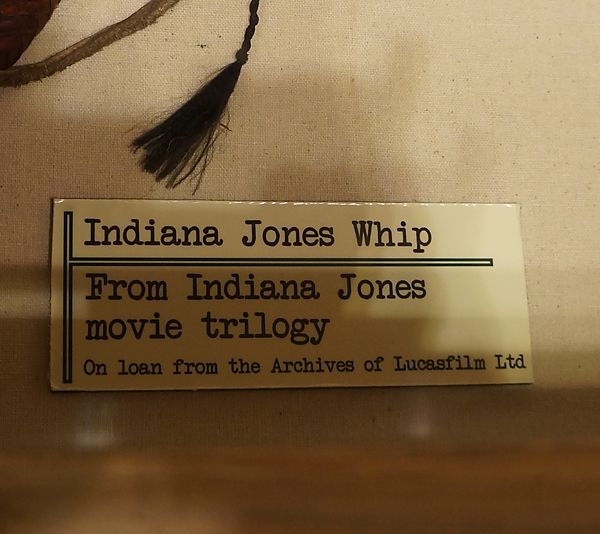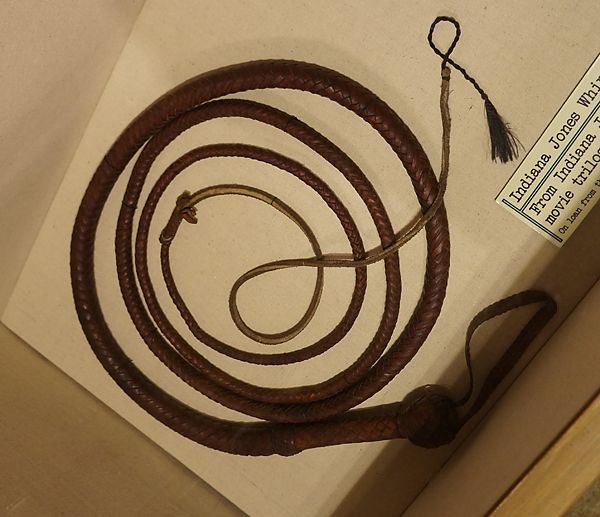 With that out of the way, we'll move over to the actual "Superheroes!" portion of our tour. Now like I said, we took plenty of pictures- But we didn't photograph everything. Some items on display were simply statues or replicas (like the Silver Surfer movie theater display and Han in Carbonite), while others weren't cool enough to even waste digital film on (like the *ugh* accelerator suit from G.I.Joe). We limited our pictures to the really cool stuff. Well, mostly. I also took this picture of a Bale Batman suit. Why? I don't know. I am not a fan of the suit, nor the films it appears in... But I know plenty of folks are, so I thought it was only right to snap at least one picture of it.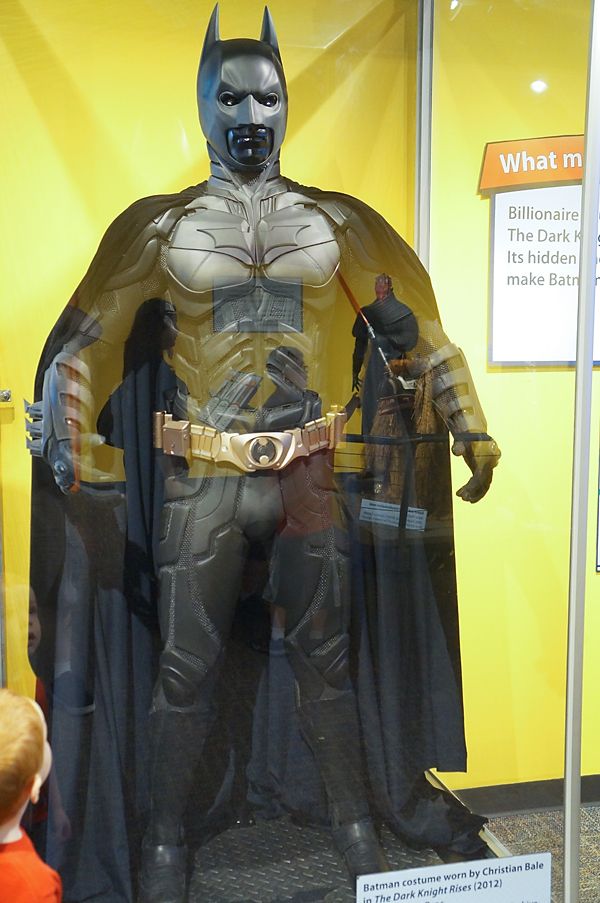 Now on to the really cool stuff... For dramatic effect, we'll start at the "pretty awesome" stuff and make our way up to the "melt your eyeballs with amazing splendor" items. In a case outside the exhibit stands a mannequin adorned in Jim Carrey's Riddler costume from "Batman Forever"! While "Forever" fails on many levels, Carrey's Riddler is a pretty spot-on, so seeing this was a real treat-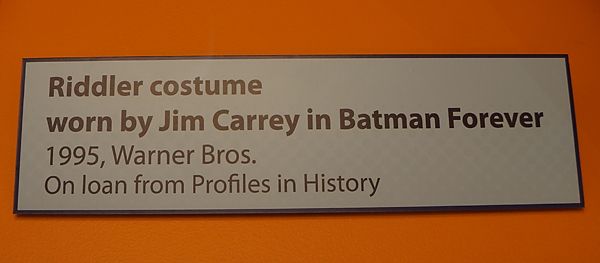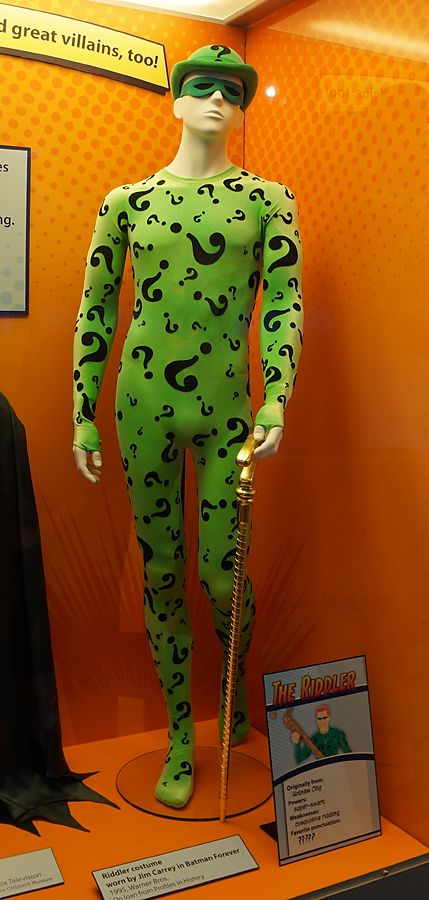 Situated next to Riddler is another piece of Bat-history: An Adam West Batman cape! Some folks might think it is crazy that I have ranked this somewhat low on the awesome list, but you have to understand that my heart belongs to Keaton Batman. And hey- At least I think it is cooler than anything Bale wore!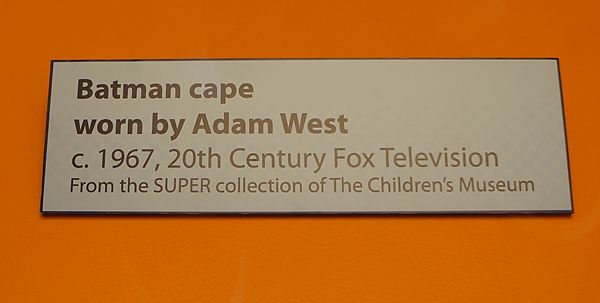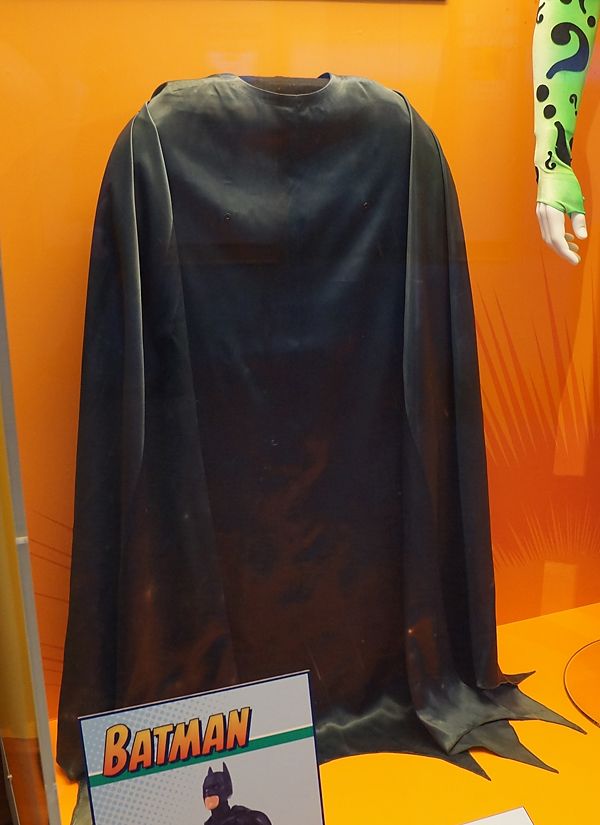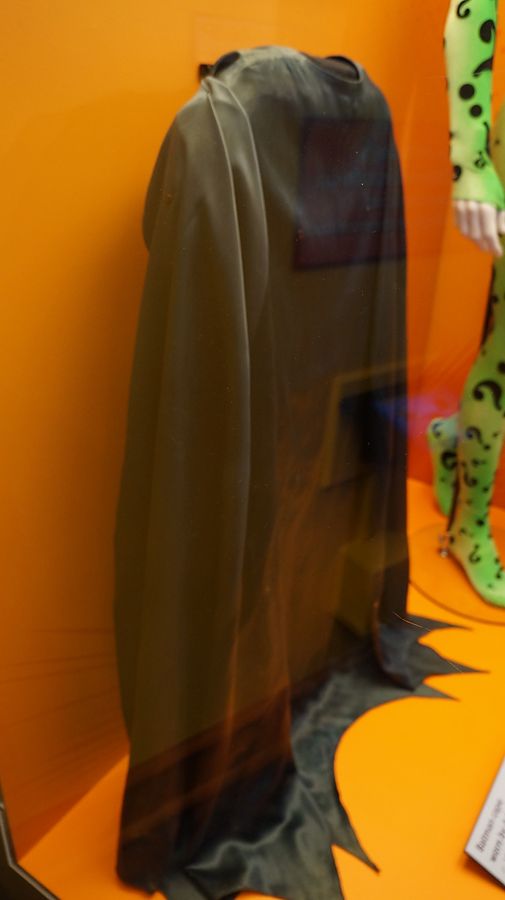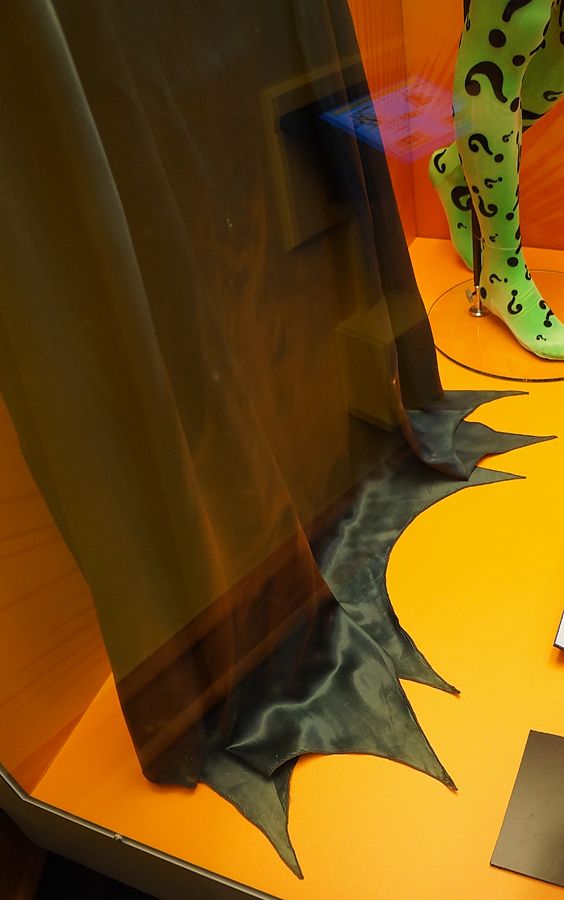 Next up was the biggest surprise at the show- A Raphael costume from the live-action Teenage Mutant Ninja Turtles films! The plaque states it is from Turtles II, and I have no reason to doubt that... but I think this may be one of the stunt costumes and not one of the "hero" suits given its construction. Either way, this was still an AMAZING thing to see. I have loved the Turtles since childhood, with the first live-action film still ranking in my top ten comic films of all time, so seeing a live-action suit in person is the cat's pajamas. And I think this was probably the boys' favorite piece at the museum, but they aren't writing this so it lands here on the list. ;)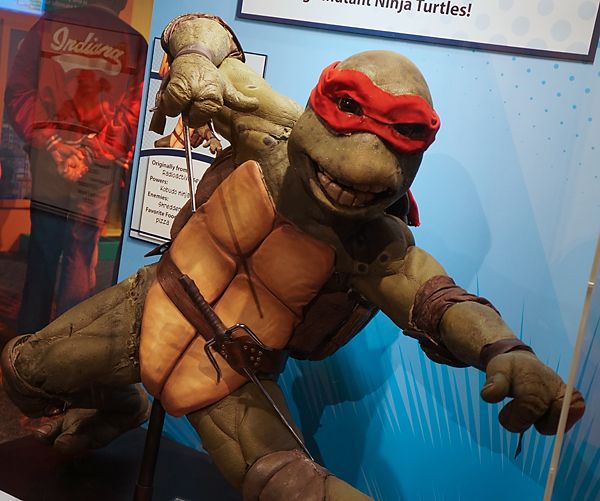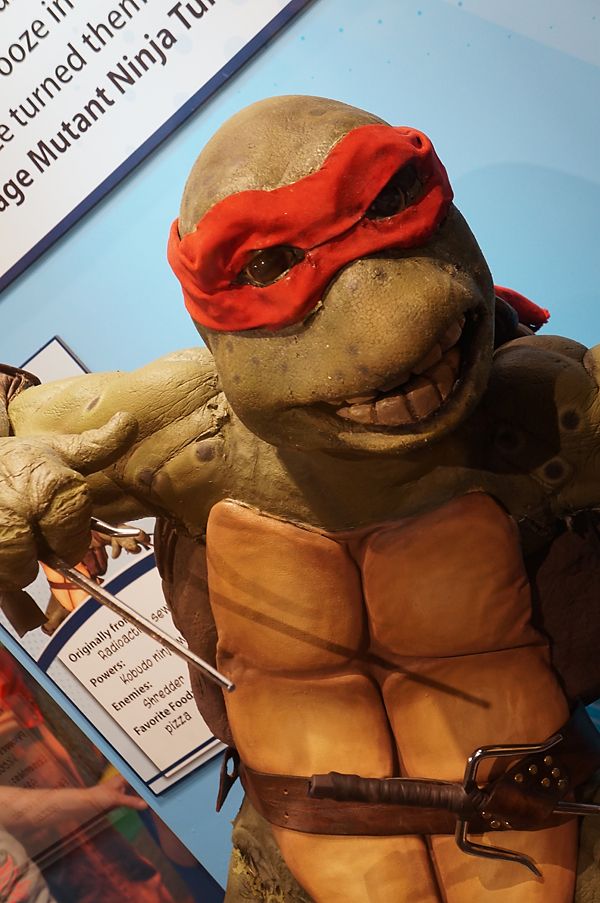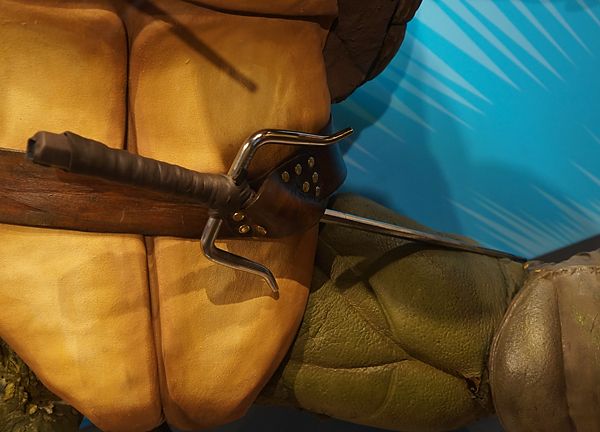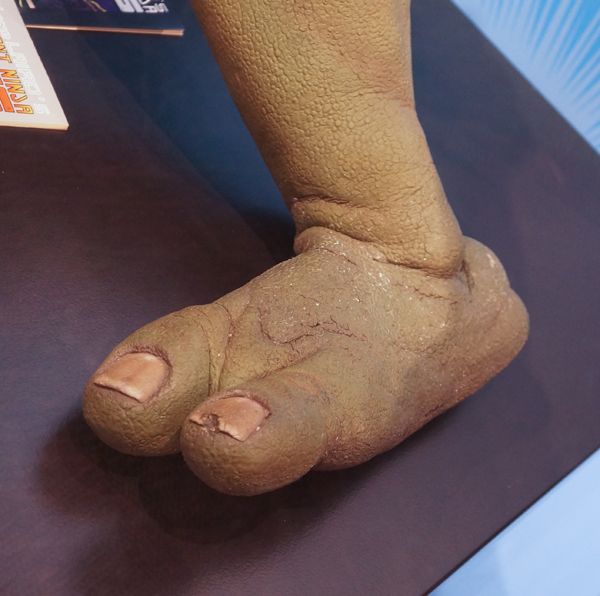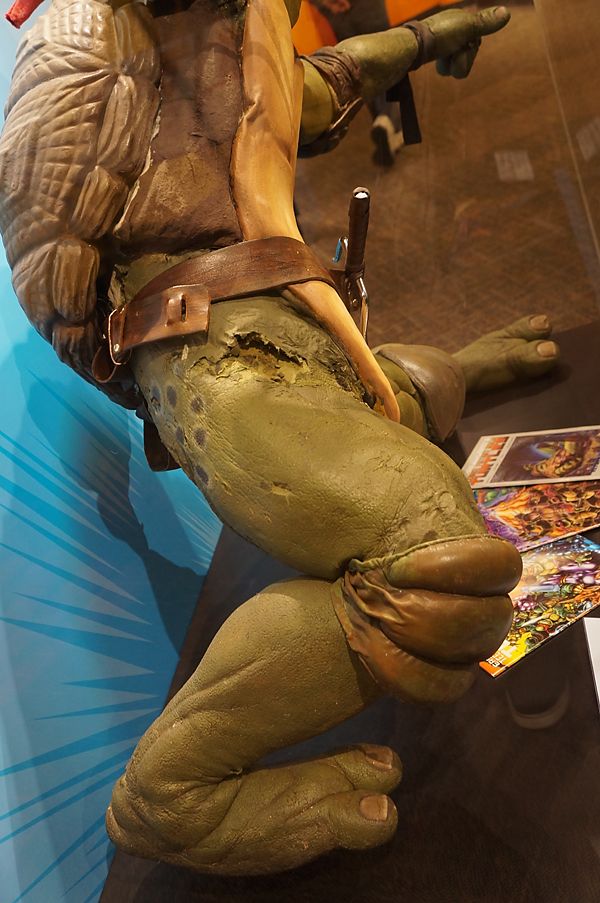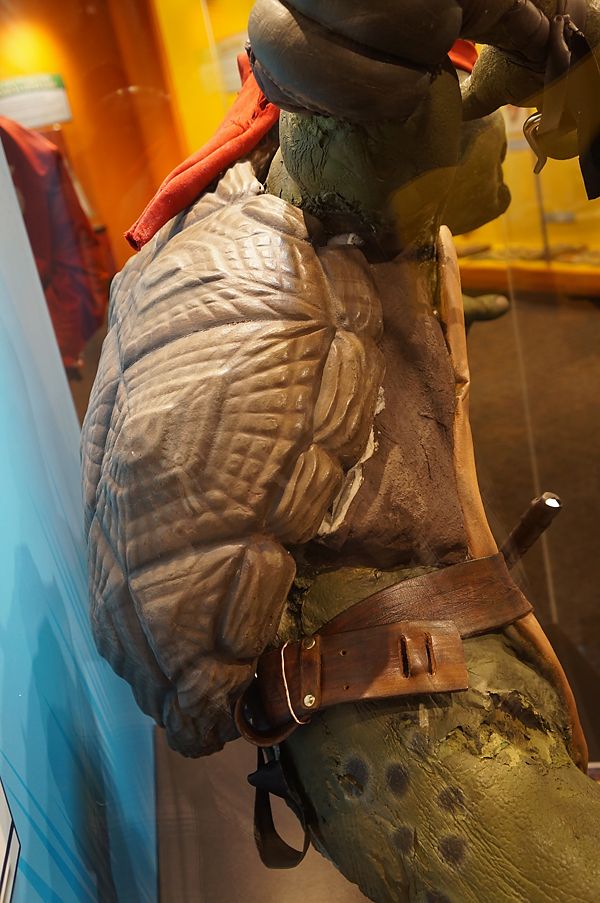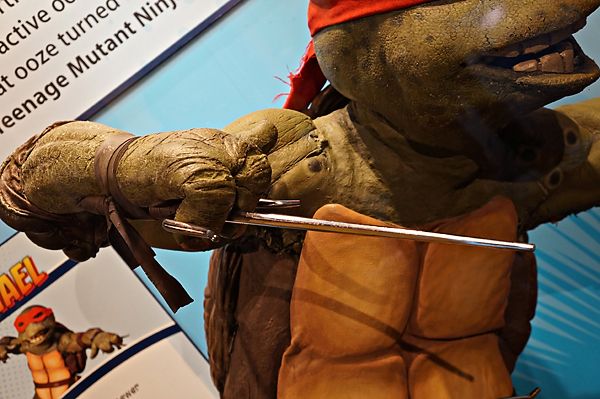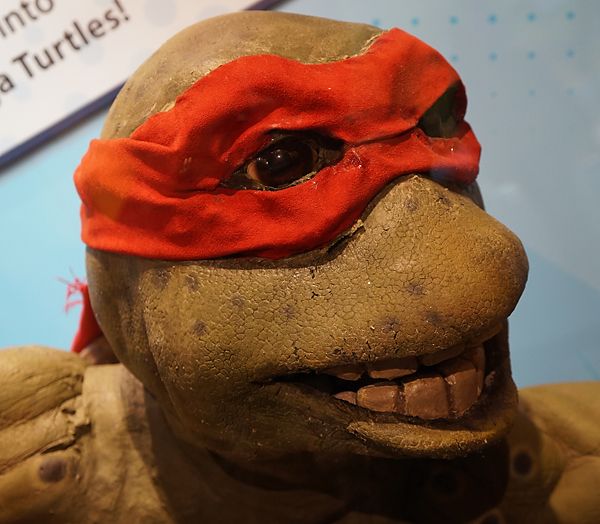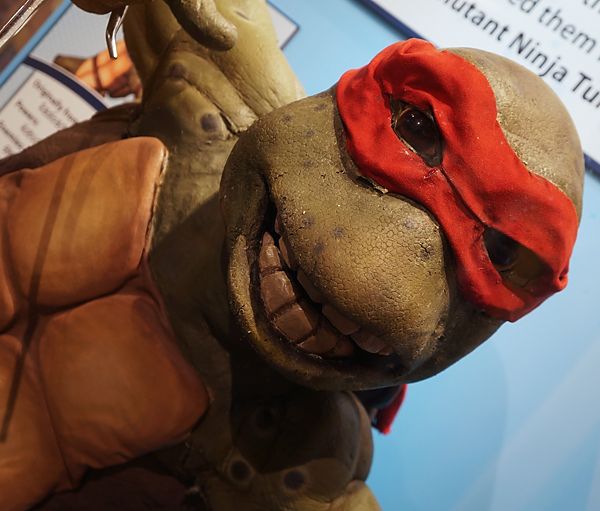 We are in the home stretch now... Just one portion of the exhibit left, housing my top 3 favorite items. We'll start with the appetizer- An autographed picture of Christopher Reeve as Superman. It may not seem like much, but for somebody who lists this as their top most-wanted autograph, it is pretty darned cool.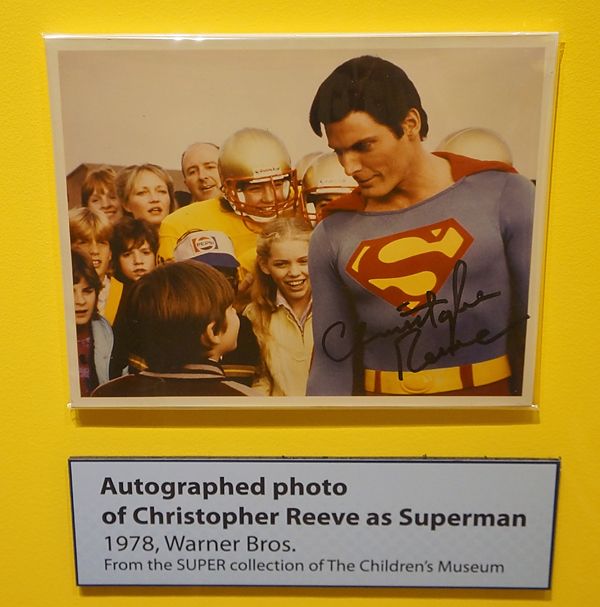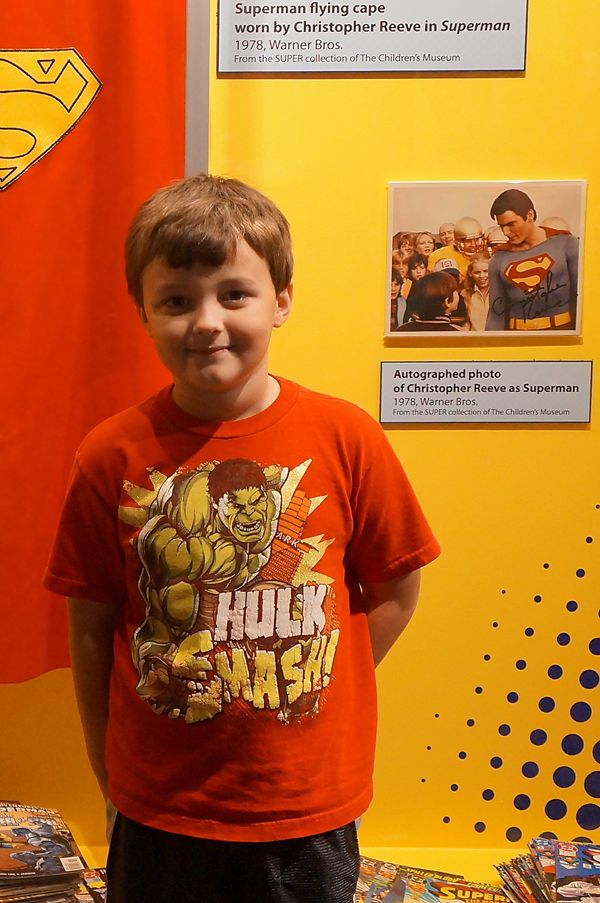 Next is this amazing Superman flight prop (sensing a theme here in my closing 3?) from the Reeve films. The placard lists it as being used in the original Superman back in 1978 (woo hoo... the year I was born!). The piece features a pretty astounding likeness to Reeve for a barely-viewed movie prop. According to the epic Superman blog
Supermania 78
, the likeness for these flight props was rendered by the late Stuart Freeborn (who also sculpted Yoda for "The Empire Strikes Back"). To read more on this head over to
THIS POST
at Supermania78.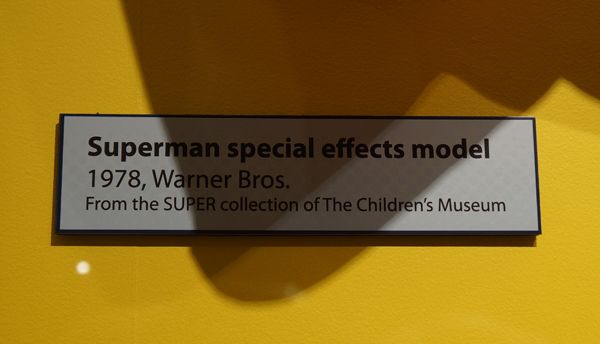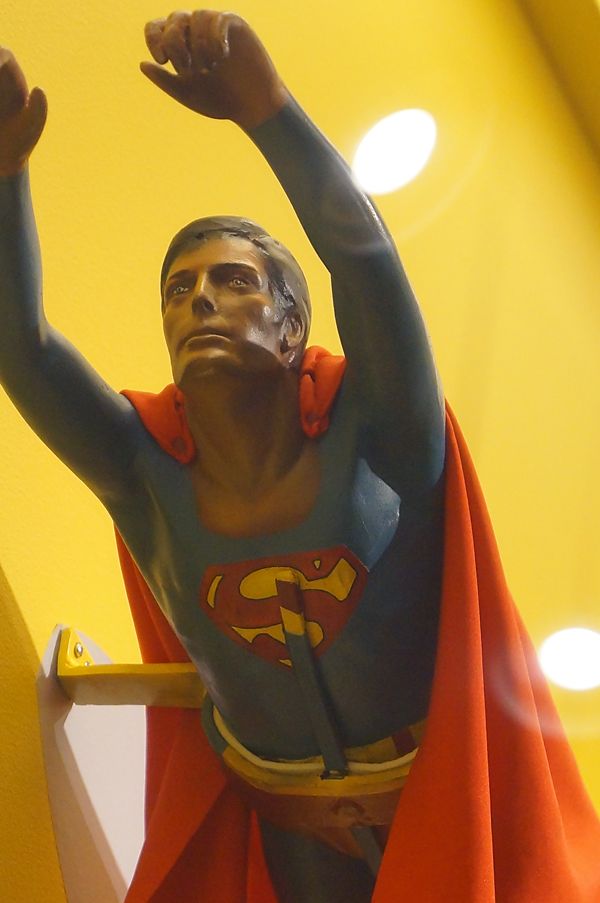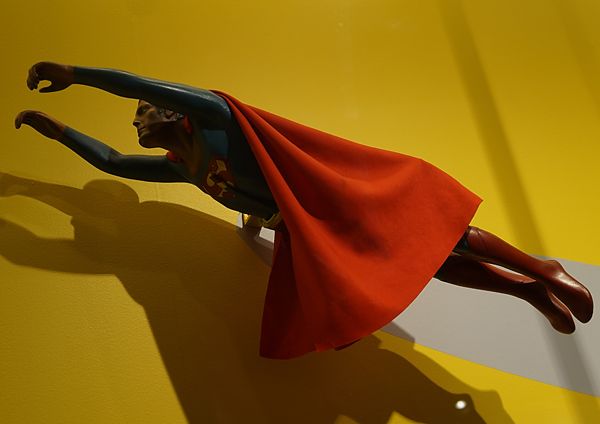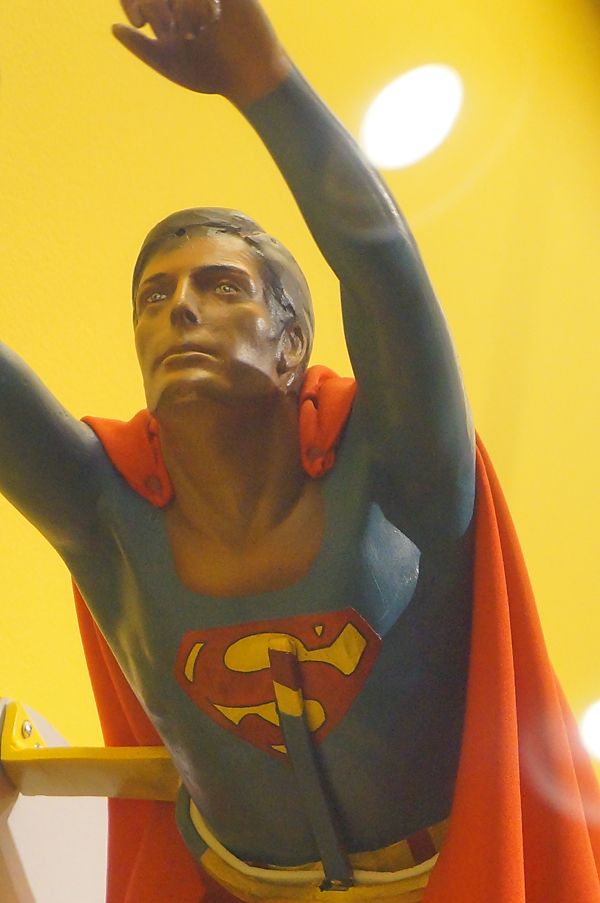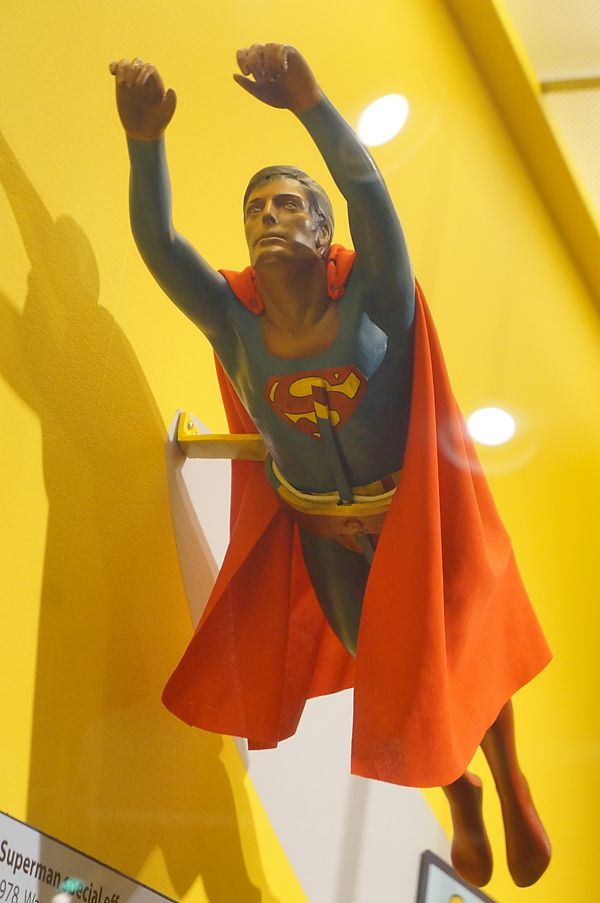 Drumroll please... And my number one favorite item at the exhibit... The main reason we made the journey.... One of the capes worn by Christopher Reeve as Superman! I honestly can't put into words the feelings I had looking at this. It may sound silly, but I actually got a little misty-eyed. The Superman films meant a lot to me growing up (even the less-than-stellar third and fourth installments), so coming within reach of the ultimate prop from those movies- Superman's cape- was truly an unforgettable experience.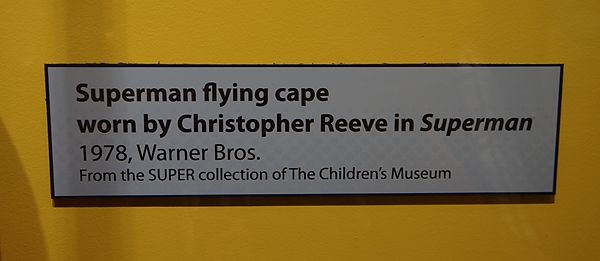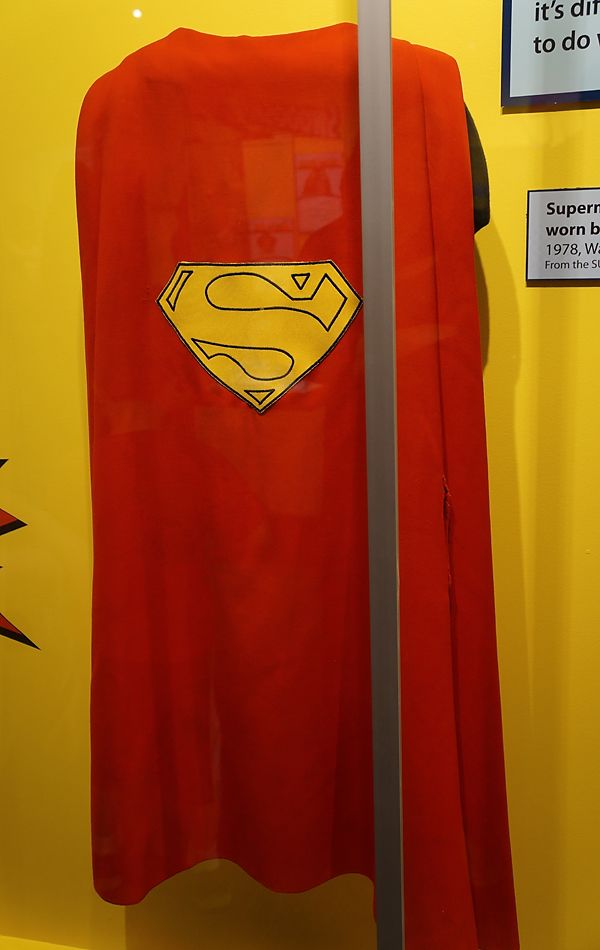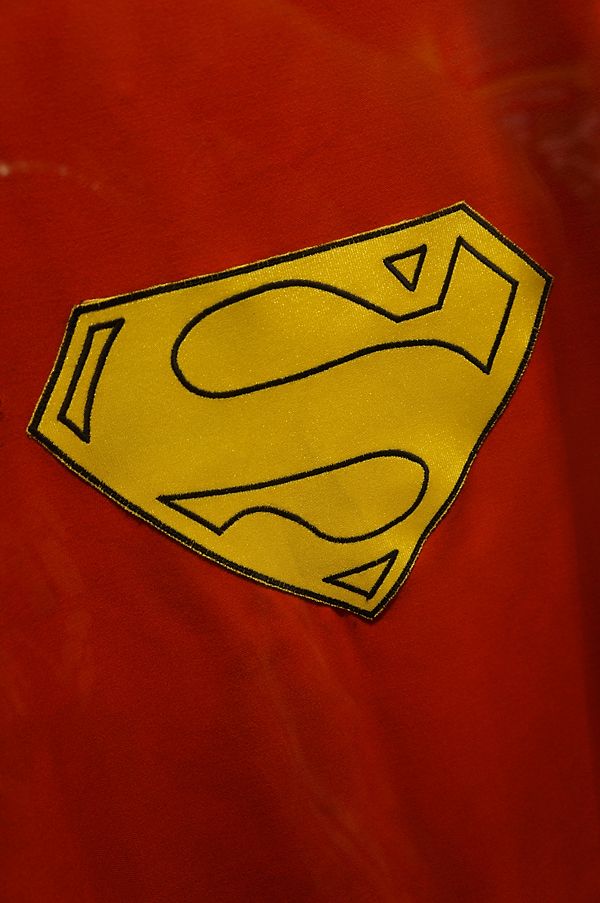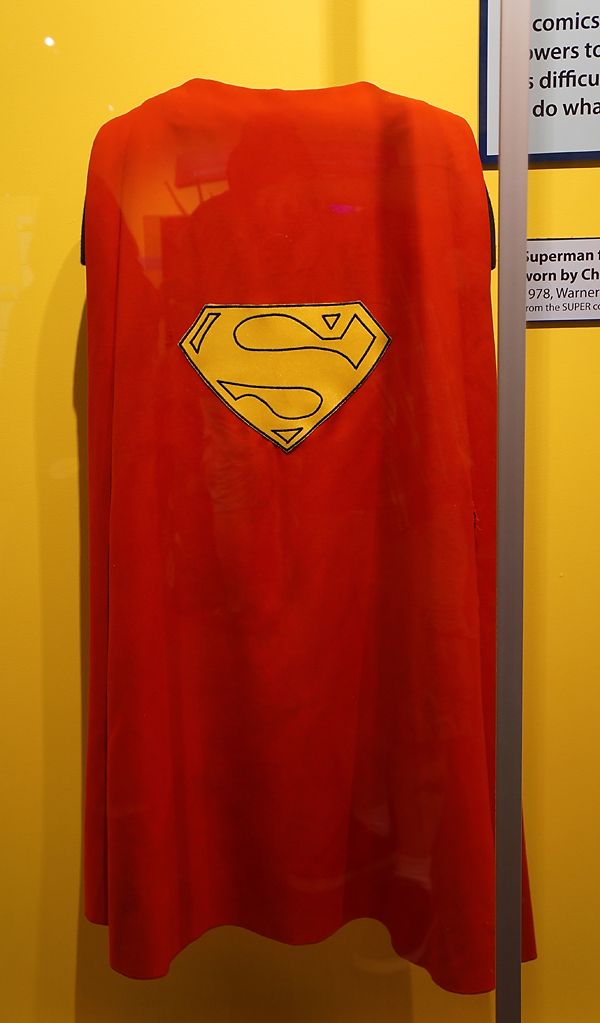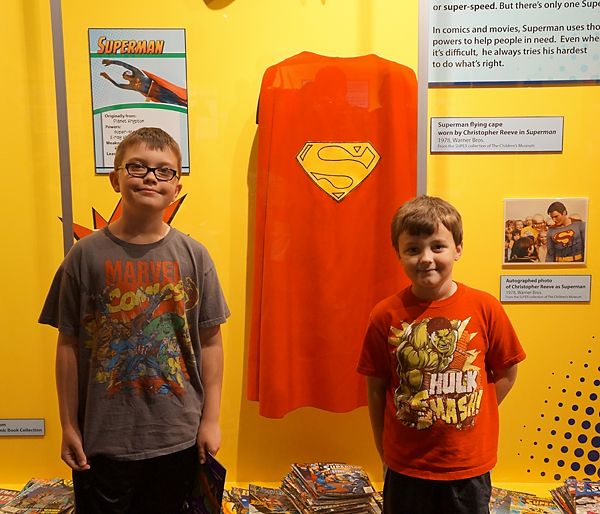 A HUGE thanks to the Indianapolis Children's Museum and their polite staff for putting on this fantastic exhibition! Events like this make museums fun and are a great way to get kids excited learning... and the Indy Children's Museum does it better than anybody. Though it is now over, I have high hopes that the "Superheroes!" exhibit will return one day, bigger and better than before. I only ask for one thing if it does: Get some stuff from the Burton Batman films this time! :)